Supra AV6.4 Home Cinema cables

These are now discontinued but if you still want to buy one of these cables:

Our own Cables Outlet webshop (opens in new window), where you can buy specific cables at discounted prices, (these are mainly: end of line, ex-demo or ex-review or just end of reel offcuts) is now ONLINE


Supra recently launched to the UK market the Supra AV6.4 - the updated version of the award winning AV6 - a cable comprising ten conductors: 6 are tin-plated OFC conductors for video and 4 are OFC for audio. Various screening techniques are used to minimise interference.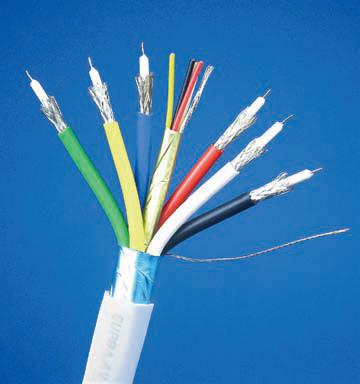 AV6.4 is capable of being terminated in a number of ways using Supra's own connectors, including RCA phono plugs, BNC, s-video, scart, VGA (mini-DB15, HDD, D-Sub) and DB25 (male/female). AV6.4 can be supplied in non-standard lengths as a special order

This cable, when terminated with the DB25 plug is especially suitable for use with products from manufacturers such as Arcam, Carver, Onkyo, Parasound and Rotel who have adopted the DB25 connector on various models in their home cinema equipment ranges.




AV6 Awarded "BEST BUY 2002" by What Hi-Fi magazine in the category Best Scart cable £51+

This cable is suitable for:
Component/RGB Analogue Video
Video walls
High resolution video projection
CG workstations
Studio tie lines

The following feature list gives some idea as to the rationale behind the design of this cable:

6 cores of 75 ohm tin-plated OFC cable
Individual tin-plated OFC screens around each core
4 other cores for audio send/receive
A separate aluminium/polyester shield surrounds all six cores
Very low capacitance, due to the use of PE foam for inner insulation




Cross-sectional view of AV6.4 cable

Below, you will find pictures of the AV6.4 in a number of combinations: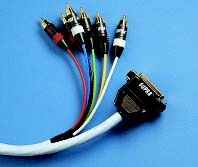 AV6.4 fitted with 6 phono's and a DB25 connector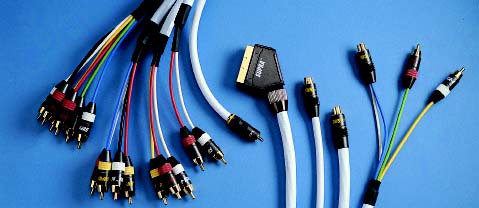 AV6.4 can be terminated at either end with:
scart plug (and wired for RGB or composite/s-video & audio)
Any combination of phono's, BNC and/or s-video plug
VGA (mini-DB15) (esp. for projectors/plasmas where RGB + H/V sync required)
DB25F connector
DB25M connector