Ground Separators

Supra AGS-10k

High-End Audio Ground Separator helps to isolate your computer from ground loops allowing you to connect the 2 channel high level audio output (say approx 400-2000mV) of your computers sound card or a computer based media server into your hi-fi system.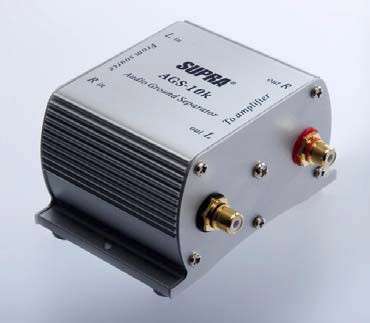 The Supra AGS-10k is a passive hum blocker which is connected between (say) the audio line-level outputs of a computer/laptop and the audio inputs of a hi-fi amplifer. Or it can be used between any two line-level items to avoid ground loop hum. Different to "common ground" separators, the Supra AGS-10k is of a high-end design using toroid transformers with wide frequency range and low distortion, even at the lowest frequencies.

The chassis is made from extruded aluminium, which helps prevent any RFI pick-up.

Specifications:
Input impedance: 10 kohms
Output impedance: 10 kohms
Ratio: 1:1
Frequency Range: 15 Hz - 22 kHz
Size: 53 (H) x 96 (W) x 89 (L) mm
Weight: 440 g

Please note that this device is not designed to work with turntables, not is it designed to remove hum loops from poorly grounded turntables. It is really only designed for use where a hum loop is created by connecting together two pieces of hardware which may use separate and incompatible power supplies (such as switch mode power supplies).