Supra HD5 Digital Video cables (3rd generation)





Supra's "3rd generation" HDMI & DVI terminated started shipping in 2012 and factory terminated versions of the HD5 HDMI cables are available in a wide range of lengths from 0.5m to 30m.

As of summer 2016, Supra introduced the HD5/S cable for all factory terminated HDMI cables up to 5m long - this is a slim-line version, which is a little bit more flexible and hence more suitable for shorter distances between products.

The standard HD5 version will continue to be available for lengths from 6m upto 30m.

We will shortly be phasing out the supply of HD5 HDMI+Ethernet cables fitted with the "standard" HDMI connector and instead we will rationalise the range and supply HDMI cables fitted with the Met-S connector.

The Met-S/B version will continue, which includes the extra "angled" connector housing plus "braid" for attaching to the cable end when "drawing" the cable through walls and conduits.

The Met-B connector and braid is also available as an "optional extra" to provide these features, if they are required for use with the Met-S versions.

If you need to carry HD signals over a longer distance than 30m, then please consider using either the NEW HDMI AOC Active Optical HDMI cables, or the Supra XT80 HDMI Extender (which carries the signal over Ethernet cables).


HDMI cables
Supra HD5 digital video cables are tested in compliance with HDMI v1.4a and v2.0 testing specifications and as such, they are compliant with all aspects of the tests.

This means that not only are Supra HD5 cables backwardly compatible with previous generations of hardware, but that they are also suitable for use with the new generation of equipment, such as Smart TV's and set top boxes requiring internet access (if said equipment uses the HDMI socket for this function - otherwise a network cable may be required to connect directly to your router).

Depending on the source resolution, the length of the cable and the receiving hardware, resolutions of 720p, 1080i, 1080p and anything up to "4k" can be carried by the HD5 cable, from sources such as set-top boxes, games consoles and 5" silver disc players.

Suitable set-top boxes that support HDMI include the Sky HD box as well as the new generation of Freesat boxes, which includes support for HD channels from many broadcasters. Various other HD boxes are also now available, from Virgin Media, Netflix, Roku, Amazon etc so, you may need better quality HDMI cables than what are supplied in the box !!

Recent Sony Playstations have a HDMI socket, and likewise, the newer Microsoft XBox devices also support HD at 1080p, via a HDMI socket on the rear and both may be supplied with a HDMI cable - but YOU may need a longer cable to reach your display or projector.

Likewise, Blu-Ray players are now available which output higher than 1080p resolutions - and combined with a new "4K" flatscreen, picture qualiy has never been so good...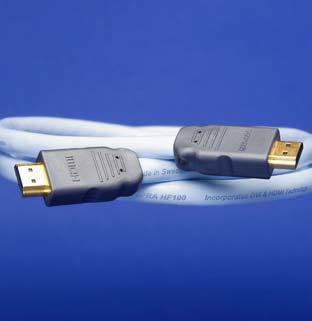 The HD5 cable has been purpose designed to run at high resolutions upto 4k even over long lengths and without problems.

Specifications
SUPRA High Speed HDMI with Ethernet Cable (v2.0)
High Speed with Ethernet
4K x 2K Resolution support: Enables video resolutions far beyond 1080p such as:.
4096 x 2160 @ 60Hz from 1m to 10m
4096 x 2160 @ 24/30Hz from 12m to 20m

xv Color
Signal Bandwidth: 1100 MHz
TMDS Bandwidth: 18 Gbit/s
Color Depth: 48 bit/px
Deep Color, x.v.Color
Auto Lip Sync
Dolby TrueHD, DT-HD Master Audio
3D over HDMI
Audio Return Channel
Ethernet Channel
4 screened twisted pairs of solid OFC conductors (with a PE foam insulation layer) improve the High Frequency response for wide-bandwidth and efficient signal transfer
Heavy Double layer shielding: 1st layer: Aluminium foil, 2nd layer: Aluminium foil, shield signals from external influences and prevents the digital signal being radiated into nearby components or other cables
0.8 micron thick 24k gold-plated contacts on connectors deliver long term reliability
Small form factor cable - diameter only 9.5 mm, enabling cable to be easily hidden.
The HD5 HDMI cable is terminated as HDMI to HDMI (in lengths up to 30 metres)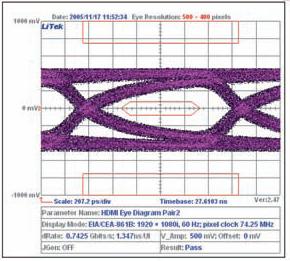 The specifications involve 3 types of connectors:
Type A is the connector currently used on all Supra HDMI cables.
Type B is a larger connector for dual link operation and
Type C is a smaller connector for mobile devices.

HDMI specifications also cover two categories:
Cat 1 is the same specifications for which Supra HF100 HDMI Cables are already tested and approved for (up to 6 metres), which is good for HD 1080p and supports a clock frequency up to 74.25 MHz
Cat 2 is NEW and is for a higher resolution and consequently supports a much higher bandwidth along the cable and supports a clock frequency of up to 340 MHz...!

Supra HD5 HDMI cables are approved for use as Cat 1 cables. So far, few (if any) HDMI cables are approved for Cat 2.

What improvements does these specifications support?
Higher Speed - single link bandwidth can be up to 340 MHz
Deep Color - supports 10-bit, 12-bit and 16-bit (RGB or YCbCr) color depths (it was up to 8-bit).
Broader color space - adds support for "x.v.Color™"
Lip Sync - incorporates automatic audio synching capabilities that allows devices to perform this synchronization automatically with total accuracy.
New HD lossless audio formats - adds additional support for new lossless compressed digital audio formats Dolby TrueHD and DTS-HD Master Audio.


Supra's HDMI connectors are factory fitted and cannot be removed or replaced (especially if damaged).


Supra DVI and HDMI<>DVI cables
The HD5 cable can also be terminated with DVI connectors at one or both ends. So, if you need a single link or a dual link DVI cable then we can supply them - please contact us for details.

The options available are:
HD5 HDMI to/from DVI
HD5 from DVI to DVI - single link
HD7 from DVI to DVI - dual link

We also offer the option of a Halogen Free Low Smoke version of any combination of HDMI and/or DVI single link cables, using the same basic cable but with a Low Smoke, Halogen Free outer insulation - this is the HD5/H cable - please contact us for details.


Supra HDMI XT80 Extender
If you need to run HDMI signals over more than 30m length, then you might want to consider using the XT80 Extender.




This features a "send" and a "receive" unit which connect to the other hardware via normal HDMI cables, but between them, they use one or ideally two CAT7+ (or better) Ethernet patch cables.

This then permits the HDMI signal to be carried over distances of up to 80 metres.


Please note: Jenving Technology aB, the manufacturers of Supra branded HDMI cables, are an official HDMI Adopter company - see the official list here - for the names of all the adopter companies - you may be surprised by the absence of many well-known "cable" brand names - this is because many HDMI cables are made for these companies by third-parties, unlike Jenving who produce the Supra HF100 cable in their own factory in Sweden, which ensures better "hands-on" quality control during the production process.

HDMI, the HDMI logo and High-Definition Multimedia Interface are trademarks or registered trademarks of HDMI Licensing LLC